Sunday, June 7th Recap
Suning Gaming vs Team WE (Net: -2.015 units)
There were some really bizarre drafts by both teams in this series. Not necessarily bad drafts, just bizarre. Very little frontline on either side meant a lot of these fights were explosive and high variance. I didn't take a lot away from this one. Both teams had a lot of missed opportunities, both teams did some things well but ultimately Suning made fewer mistakes and were fairly dominant in game three. Angel's Kassadin remains undefeated on the year. Team WE were unable to get enough done against it early in the game with the Aurelion Sol despite their best efforts. Credit to Suning on playing defense in this series.
BiliBili Gaming vs Vici Gaming (Net: +0.49 units)
BiliBili started the subs and the subs were severely outplayed although one specific situation really stuck out to me as a missed opportunity in game two that could have maybe won them the game.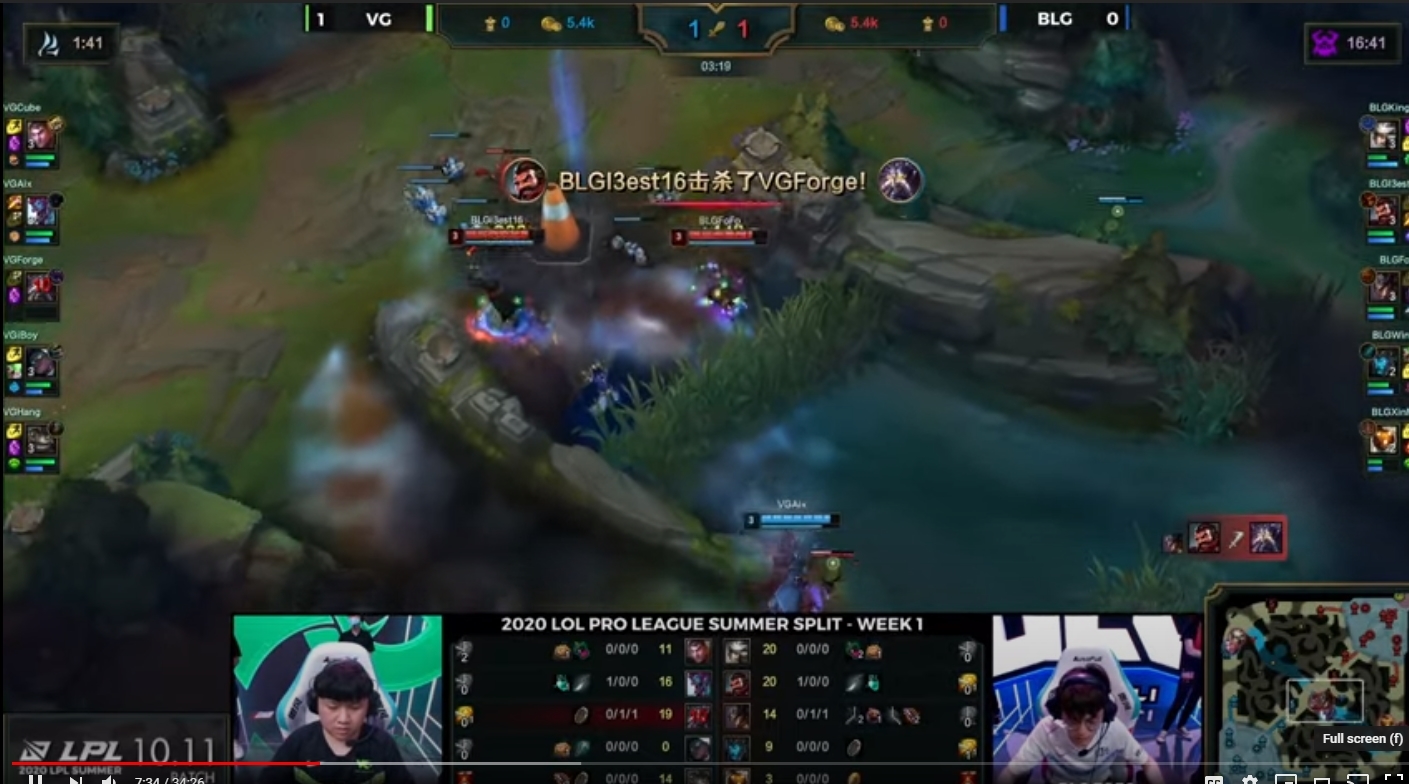 Forge blew his flash on the first blood kill to help out Aix. l3est16 appropriately returned the gank knowing Kassadin isn't level 6 (ultimate) and has no flash and can't escape a gold card from Twisted Fate. If you'll notice there are more minions for Vici meaning this wave was going to push. BLG could have frozen the wave and just ganked Kassadin over and over and over to put him severely far behind which is what you have to do against that champion. BLG could have effectively taken him out of the game and won right here and instead they shoved the wave and Forge was allowed to play League of Legends. It might seem overly critical and it is early in the season, but these kinds of missed opportunities are what separate good teams from bad ones.
Daily Total Net: -1.525 units
We missed on every single total bet today but these were, as I mentioned some really bizarre games. I'll evaluating whether or not teams are going to be playing poke/scaling and attempting to pin that down a bit better moving forward. These Kassadin or 1-3-1 style games are almost always lower in kills.
LPL Summer 2020
Week 2 – Day 1
Oh My God! (OMG) -182 (-1.5 maps @ +167) vs
Victory Five +141 (+1.5 maps @ -500, -1.5 maps @ +336)
Kill Total: OTB
Team Kill Totals: OTB
Kill Spread: -4.5 @ -114 / +4.5 @ -114
Time Total: OTB
OMG – Curse, H4cker, Icon, Smlz, Cold
V5 – Biubiu, Weiwei, Mole, SamD, ppgod
Trends:
OMG were 4 – 2 (4 – 2 ATS) as favorites in Spring
Victory Five are 1 – 16 (2 – 15 ATS) since the beginning of the year
OMG won the first meeting in Spring 2 – 0
Victory Five earned their first match win in over 300 calendar days against Dominus. I'm happy for them. The new look, more stable roster appears to be LPL caliber all around and the new guys SamD and ppgod looked excellent in their debut appearances. That said, Victory Five capitalized on a lot of mistakes by Dominus to really get the ball rolling in these games and I'm interested to see whether or not they can engineer plays on their own to get ahead.
OMG looked dreadful in Summer debut against RNG but Xiaohu and XLB really took over both of these games from the start so it's tough to really criticize a one series sample against an elite performance. They did start Aliez in game one and Curse was at least a little bit better in game two but OMG looked very much like the same team we saw in Spring; against superior individual talent their focus on a slow, extended laning phase simply doesn't work.
I think a lot of people are going to be on Victory Five in this spot with all the excitement around their first win and new roster but as I mentioned earlier, I question their ability to create opportunities on their own. They might be perfectly capable of doing it but I did not see it in the first series because Dominus just made mistake after mistake. OMG are far from a good team but they don't make a lot of egregious mistakes in-game by design, especially early on. I think we'll see the individual talent win out here. This is a classic double overreaction spot based on a small sample size. It's the kind of series OMG win.
Other markets:
My Composite Combined Kills per Game (cCKPG) has this kill total at 25.75 kills. My odds-weighted projection, which is an odds-weighted blend of kills per win (KPW) and kills per loss (KPL) composite averages has this total at 24.48  kills. Time-total implied kills (avg of both teams CKPM*implied time total) is 28.39 kills. In a projected underdog win, in this case Victory Five, 24.12  kills. With no total released as of this writing, I'll be looking to overs yet again in this series since I'm assuming it will be fairly low like a 24.5. I'll be updating this post once the lines are out.
OMG actually covered this 4.5 kill spread in all but one win last season and given that I think they take this series and we can get substantially better odds on the -4.5 it's worth exploring as an option. I'm going to wait for alternate markets. I would like to get plus odds on a larger spread if possible since we're spreading risk over two or potentially three games.
My Picks:
Moneyline: OMG -182 (1.82 units)
Spread: OMG -1.5 maps @ +167 (0.5 units)
LGD Gaming -145 (-1.5 maps @ +203) vs
eStar Gaming +114 (+1.5 maps @ -270, -1.5 maps @ +279)
Kill Total: OTB
Kill Spread: -4.5 @ +113 / +4.5 @ -147
Team Kill Totals: OTB
Time Total: OTB
LGD – Garvey, Peanut, Xiye, Kramer, Mark
EST – Xiaobai, Wei, Fenfen, Wink, ShiauC
Trends:
eStar were 4 – 0 (4 – 0 ATS) as underdogs in Spring
LGD were 1 – 2 (1 –  2 ATS) as favorites in Spring
eStar won the first meeting 2 – 0 as -260 favores back in week two, early March.
As a note, eStar were severely mispriced going into last season (although almost nobody saw that coming). It took awhile for the books to adjust so their flawless underdog record is a skewed by that information.
Both of these teams come in very different from Summer with eStar missing star mid laner Cryin and LGD with the addition of Langx to the top lane. However, Langx isn't starting in this series and LGD are going with another new addition Xiye over Yuuki.
I have my questions about how eStar will look without Cryin. Highly synergistic teams tend to struggle when you take a cog out of the machine but I do think Fenfen is actually a reasonable replacement. He's versatile and able to play a number of different champions and roles. It's a downgrade, no question, I just think that eStar might not be held back as badly as a lot of people perceive. The other players on this team were outstanding too, it's not like it was just the Cryin show all Spring.
Garvey has been tremendously unexciting in his career and over the past two seasons, so has Xiye. As far as I'm concerned Xiye is a functional starter and that's about it anymore. He has this strong name brand value from his contributions many years ago but he's been a shadow of his former self. Fenfen should outclass him. Xiaobai was a surprisingly strong top laner last season and the chemistry he has with Wei, one of the better junglers in the league, made them one of the more potent top+jungle duos in the league, even rivaling the elite pairings like Zoom and Kanavi.
To me, eStar present tremendous value in this spot even with the unknowns. If LGD was marching out the anticipated lineup that I thought they'd use with Langx and Yuuki I might think twice about this but their replacements for this match represent a substantial overall downgrade to me. I had this match as eStar small favorites even with the full LGD lineup and eStar are STILL underdogs. Too much value.
Other Markets:
My odds-weighted projection, which is an odds-weighted blend of kills per win (KPW) and kills per loss (KPL) composite averages has this total at 29.73  kills. Time-total implied kills (avg of both teams CKPM*implied time total) is 29.58  kills. In a projected underdog win, in this case eStar,  30.24 kills.
Obviously eStar were a ridiculously high kill team last season so it will depend on where the number is for this series but I'll be on the OVER on anything better than 27.5.
My Picks:
Moneyline: eStar +114 (1.5 units)
Spread: eStar -1.5 maps @ +279 (0.5 units)
I'll see you tomorrow!