Sunday, September 6th Recap
G2 Esports vs Fnatic (Net: +1.23 units)
This series wasn't nearly as lopsided as the final score other than game three which was a stomping. Game one was the longest game of the season and Fnatic had it won but just couldn't figure out a way to force G2 to a fight that was advantageous for them. Game two was a great draft by Fnatic and they had an early lead before, you guessed it, G2 pulled a rabbit out of hat and took that game from a massive deficit. This series easily could have been 2-0 Fnatic heading into game three but great teams find miracles and G2 are no exception.
Caps is an absolute machine. I don't think this is news to anyone but I'm not sure people realize just how ridiculous it was to put up that kind of a performance in that Sylas game from behind like that. It feels like it doesn't matter whether he's ahead or behind he can just take over a game. It's uncanny and I don't know how he does it on such a consistent basis. He's one of the best players in the world in any region and don't forget that.
More or less correct on my read that Fnatic were going to struggle to hide Nemesis vs Caps in this series but this was definitely more of a team loss than an individual one.
Also, imagine betting under kill totals in this one…. oi…
TSM vs FlyQuest (Net: ?? units)
Will write on this tomorrow or later tonight. As of this writing it hasn't been played yet.
Parlays: ?? units
Daily Total: ?? units
LCK Summer 2020
Regional Qualifier – Round One
Afreeca Freecs -222 (-1.5 maps @ -104, -2.5 @ +310, +1.5 @ -625) vs
KT Rolster +170 (+1.5 maps @ -123, +2.5 @ -455, -1.5 @ +406, -2.5 @ +1115)
Total Maps: 3.5 maps (over -263 / under +200), 4.5 maps (over +192 / under -256)
Kill Total: 24.5 (over -105 / under -123)
Kill Spread: -5.5 @ -105 / +5.5 @ -123
Team Kill Totals: 14.5 / 9.5
Time Total: 33:00 (over -111 / under -118)
The Regional Qualifer, or "gauntlet," is a tournament seeded based on championship (circuit) points accrued over the course of the season in the LCK. The LCK sends the top championship points team (DragonX) and the winner of the Summer season (DAMWON) directly into the World Championships. The gauntlet is then seeded based on championship points not including those two teams and is a similar format to playoffs except all rounds are best-of-five instead of the first being best-of-three. KT Rolster will play Afreeca, the winner will play T1, and the winner of that will meet Gen.G in the finals to determine the third and final seed for Korea at the World Championships.
I'll just be up front with this and say that I have a very strong take on this series and that's that KT will win it outright and I think this number, despite all the trends in Afreeca's favor, is egregious. Afreeca are being heavily overrated based on playoff results and KT underrated.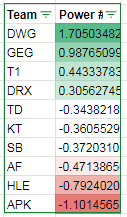 First, my economy/objective model actually rates KT Rolster as a slightly better team than Afreeca. While KT don't have the ridiculous blowout wins that Afreeca do, they don't have nearly as many big losses either. They're a competitive team against stronger teams no matter the players in the lineup that day (we'll get to that in a bit). Afreeca were a classic "gatekeeper" team, someone that can't beat the teams ahead of them but rather consistently beats everyone below them. Afreeca haven't had many "average" games despite their average production. They've been completely smashed or completely smashing in most games while KT have been more steady. Coincidentally the games these two played were close through twenty minutes.
Second, Afreeca won both series against KT in the regular season 2-0 and 2-1 but what that doesn't show is the two absolute heartbreakers KT lost to be eliminated from playoff contention. Both were 44+ minute games that, quite frankly, they should have won if not for a few clutch plays. Sure you could hold this against them but the fact that KT likely should have 2-0'd Afreeca should be telling. Their first series was a fairly close 2-0 as well. As a matter of fact, the average gold differential for Afreeca in their matches against KT Rolster were as follows (10 / 15 / 20 minutes): +83.2 / -172.4 / +321.8. That's pretty close. Only two leads of greater than 1500 gold were achieved in the first 20 minutes of all five games, one by KT of 1730 and two by Afreeca 1807 and 1996 (which was at 15 and then thrown). Afreeca averaged a solid +105.5 gold differential per minute in these five games but just +41 per minute in the first 20. Case and point their matches were close.
Third, KT Rolster have a massive edge in preparation time. KT Rolster played their final series against DAMWON on August 22nd more than two weeks ago. In that time, Afreeca had two playoff series worth of film for KT Rolster to dissect. Most people didn't expect Afreeca to have to play two series and while they pulled an upset over T1, which I'd argue was more just a poor performance by T1, they were completely walloped by Gen.G on the 28th. Afreeca still have ample time to prepare for this match but the extra week should definitely play a part.
Fourth, extended rosters tend to be a benefit in best-of-five series. KT Rolster have a full bench of starter quality players and they could have a number of different strategies prepared for the players at their disposal, especially given the extra time to prepare that they aren't used to during the regular season. This would give them time to build roster specific team compositions and drafts amongst other things. I think it's a huge edge to have in a series like this especially given that you just saw two better teams show how they'd attempt to break down Afreeca to varying degress of success.
Fifth, despite a close series in their last outing, this line hasn't moved much off of Afreeca, likely because of their playoff win over T1, which we discussed above. The line in that series was Afreeca -172 / KT +135 in a best-of-three. Extrapolated this is essentially the same line. To me that's a value on KT Rolster and that's who I played on that day.
Both of these teams are full of strong veteran players so I doubt nerves will kick in but this is definitely a more challenging spot for Afreeca than the odds are implying. They tipped their hand quite a bit in playoffs and that could prove to be a huge disadvantage against good teams with an extra week of preparation time. Afreeca also started to lose to the mid table teams later in the season twice to Dynamics, once to KT which probably could have been an 0-2 loss, and once to Sandbox. This team is far from infallible and while all the trends point to Afreeca dominating the bottom half of the table I think KT are the best of the rest of that group by a fair margin and with extra time to prepare, an extended roster, and film on Afreeca I think they can overcome side selection and take this series down outright.
Totals:
cCKPG: 27.2
Time-projected: 25.91
Odds-Weighted: 27.87
Underdog Win: 30.0
"G" Projected Total: 26.99 kills
The LCK playoffs have averaged about 26 kills per game. Afreeca have been on the higher end with a 27.5 combined kills per game average in their six games.
These teams had games with 15, 17, 22, 35, and 45 kills this season. This is a potential margin spot (alternate overs AND unders) but I'm going to simplify and just to overs since the math doesn't work out to a particularly nice margin to make it worth attacking in this specific case. Projection likes overs, overs makes sense, we'll take overs and alt overs.
Afreeca game times: 32.99 / 34.38 / 31.535 (average / in wins / in losses)
KT Rolster game times: 32.97 / 33.24 / 32.78 (average / in wins / in losses)
Projected Time (avg of avg game times): 32.98 minutes
Odds Weighted: 33.16 minutes
These two played a complete slugfest back and forth in their last outing but it's tough to predict those exceptionally long games. My projection thinks this is about right and I think this is fairly priced as well. There's a strong likelihood that we get margins on the time totals too but most places don't offer markets to accommodate that so I'll pass. If you are at a book that offers alternate overs and unders this would be a place for margin play.
Other markets:
First Blood: AF 56.1% / KT 48.84%
First Tower: AF 43.9% / KT 48.84%
First Dragon: AF 29.27% / KT 68.77%
First Herald:  AF 41.46% / KT 55.81%
There is value on KT first tower, KT first herald (my favorite), and slight value on Afreeca first blood. I'll be playing KT first herald since it offers the best odds and there is a correlation between first tower and first herald.
My Picks:
Spread: KT Rolster +2.5 maps @ -455 (9.1 units)
Spread: KT Rolster +1.5 maps @ -123 (2.46 units)
Moneyline: KT Rolster +170 (2 units)
Spread: KT Rolster -1.5 maps @ +406 (1 unit)
Spread: KT Rolster -2.5 maps @ +1115 (0.5 units)
Kill Total: Map 1 OVER 24.5 @ -105 (1.05 units)
Kill Total: Map 1 OVER 25.5 @ +113 (0.5 units)
Kill Total: Map 1 OVER 26.5 @ +138 (0.25 units)
Kill Total: Map 1 OVER 27.5 @ +167 (0.25 units)
Kill Total: Map 2 OVER 24.5 @ -105 (1.05 units)
Kill Total: Map 2 OVER 25.5 @ +113 (0.5 units)
Kill Total: Map 2 OVER 26.5 @ +138 (0.25 units)
Kill Total: Map 2 OVER 27.5 @ +167 (0.25 units)
Kill Total: Map 3 OVER 24.5 @ -105 (1.05 units)
Kill Total: Map 3 OVER 25.5 @ +113 (0.5 units)
Kill Total: Map 3 OVER 26.5 @ +138 (0.25 units)
Kill Total: Map 3 OVER 27.5 @ +167 (0.25 units)
Prop: Map 1 KT first herald @ +112 (1 unit)
Prop: Map 2 KT first herald @ +112 (1 unit)
Prop: Map 3 KT first herald @ +112 (1 unit)